Mars Air Curtains LPN236-1UA-OB, LoPro 2, NSF Certified 36" Unheated 115/1/60 Obsidian Black
Mars Air Curtains LPN236-1UA-OB, LoPro 2, NSF Certified 36" Unheated 115/1/60 Obsidian Black
:

Mars Air Curtains

:

LPN236-1UA-OB

:

$689.69

:

Calculated at checkout

:

Usually ships in 2 - 5 business days.
Product Description
Mars Air Curtain LPN236-1UA-OB Overview
Our LoPro LPN2 model shares the same sleek, consumer-friendly design the rest of the LoPro series features, only it is ETL Sanitation Certified for foodservice applications. It has a 1/6 HP motor and is sanitation certified for heights up to 7'. The standard color is Obsidian Black.
Product Features of LPN236-1UA-OB
Aesthetically Pleasing "Low Profile" 8" Design
Certifications
Corrosion Resistant Powder Coated Finish
Durable Metal Construction
Durable metal design
Easy install mounting plate
Easy To Install
Flying-insects Protection: 7'
Freight included
Low Maintenance
Low-profile metal design
Made in USA
Sleek metal design
1/6 hp direct-drive motor
LPN236-1UA-OB Specifications
Voltage:

115V

FLA (Ampacity):

2.4Amps

Door Width (Inches):

36

Door Height:

7'

Number of Poles:

1

Max Volume:

900

Max Velocity

1800

Frequency (Hertz):

60

# of Motors:

1

Sound dBA:

49

Weight (lbs):

32

Color:

Obsidian Black
LPN236-1UA-OB Accessories
DOOR SWITCHES
Automatic on/off control of air curtain as door is opened and closed

Line Voltage
- 99-014 Door Limit Switch - Combination roller and plunger - 20 amps, 250v, or 1 hp max.

24-Volt Control
- 99-018 Commercial Magnetic Reed Switch Only - Plastic | Surface-mounted | NOTE: Used with control packages J0023 or J0024 for double doors

CONTROL PACKAGES
Combination packages of door switches, controllers, time delays, and thermostats

Line Voltage
- J0043 Door Limit Switch with Adjustable Time Delay. 1 sec. - 10 min. | Surface-mounted
- J0044 Door Limit Switch with Adjustable Time Delay and Analog Thermostat. 1 sec. - 10 min |Surface-mounted switch, remote-mounted thermostat
- 99-063 Analog Thermostat - Remote-mounted
- 99-064 Analog Thermostat DPST - Double pole, single throw | Acts as heat on demand Remote-mounted

24-Volt Control
- J0021 Commercial Magnetic Reed Switch with Controller and Adjustable Time Delay | 115v - 6 sec. - 20 min. | Plastic | Surface-mounted
- J0022 Commercial Magnetic Reed Switch with Adjustable Time Delay |208-230v 1? - 6 sec. - 20 min. | Plastic | Surface-mounted
- J0023 Commercial Magnetic Reed Switch with Controller | 115v - Plastic | Surface-mounted
- J0024 Commercial Magnetic Reed Switch with Controller | 208-230v 1? - Plastic | Surface-mounted
- J0028 Door Limit Switch with Controller and Adjustable Time Delay |115v - 6 sec. - 20 min. | Surface-mounted
- J0029 Door Limit switch with Controller and Adjustable Time Delay |208-230v 1? - 6 sec. - 20 min. | Surface-mounted
- J0046 Commercial Magnetic Reed Switch with Internal Transformer |208-230v 1? and 3? - Plastic | Surface-mounted
- J0047 Commercial Magnetic Reed Switch with Internal Transformer |460v 3? - Plastic | Surface-mounted
- J0049 Commercial Magnetic Reed Switch with Adjustable Time Delay and Analog Thermostat | 208-230v 1? and 3? - 1 sec. - 17 min. | Plastic | Surface-mounted switch, remote-mounted thermostat
- J0050 Commercial Magnetic Reed Switch with Adjustable Time Delay and Analog Thermostat | 460v 3? - 1 sec. - 17 min. | Plastic | Surface-mounted switch, remote-mounted thermostat
- J0051 Commercial Magnetic Reed Switch with Adjustable Time Delay |208-230v 1? and 3? - 1 sec. - 17 min. | Plastic | Surface-mounted
- J0052 Commercial Magnetic Reed Switch with Adjustable Time Delay |460v 3? - 1 sec. - 17 min. | Plastic | Surface-mounted

MOUNTING BRACKETS
Recommended for specific applications | Standard color: Obsidian Black | NOTE: Units come standard with predrilled holes on back end for flush mounting

- J0041 Transom Mounting Brackets - For glass-frame doors | Set of 2 | Standard color Obsidian Black
- J0120 Tandem Mounting Kit - Used when multiple units are mounted side-by-side | Standard color Obsidian Black
- J0121 Tandem Mounting Kit - Used when multiple units are mounted side-by-side | Standard color Obsidian Black
- J0032 Walk-In Installation Kit | 115v - Includes: Magnetic reed switch | Controller | Nylon bolt
- J0033 Walk-In Installation Kit | 208-230v 1? - Includes: Magnetic reed switch | Controller | Nylon bolt

FILTERS
- LP2-FILTER-[size] LP2 Aluminum Mesh Filter 1/4' - Internal-mount | Set of 2 | [size]: Specify size in inches
LPN236-1UA-OB Electrical Drawing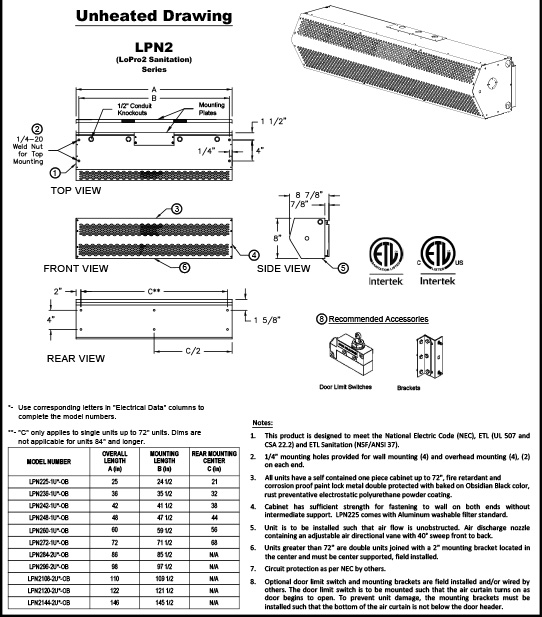 Find Similar Products by Category