Amtrol: Well-X1 System Well Tank & Digital Control
Ready-to-Run Well Tank System
The Well-X1 combines a top-of-the-line Well-X-Trol® with the Guardian CP® digital pump control and protector to provide an easy-to-install, ready-to-run well tank system. It's the ultimate combination of quality, savings and performance.
Well-X1 Features
Well-X-Trol Well Tank:
150 PSIG Working Pressure.
Patented Turbulator™ and Antimicrobial Liner.
DuraBase® Composite Stand.
7-Year Limited Warranty.
Guardian CP Pump Control & Protector:
Digital Pressure Gauge.
10 PSIG Min. Differential for City-Like Pressure.
Pump Cycle Control Saves Energy.
Real Time System Diagnostics.
2-Year Limited Warranty.
Fast, Easy Installation:
Simple, 4-Wire Setup. Auto
Adjusts to 115 or 230 VAC.
Pre-Assembled with all Required Fittings.
Well-X1 Specifications
Construction
Tank: Well-X-Trol with DuraBase Composite Stand
Control: Guardian CP with Mounting Bracket
Pre-assembled Accessories: Tank Tee, Relief Valve and Drain Valve
Performance
Max. Operating Temperature: 200º F (93º C)
Max. Working Pressure: 150 PSIG (10.3 bar)
Max. Relief Valve Setting: 125 PSIG (8.6 bar)
Warranty – Well-X-Trol Well Tank: 7-Year Limited
Warranty – Guardian CP Control: 2-Year Limited
Application
Complete well tank solution for residential water systems.
Can be used indoors or outdoors.
Well-X1 File:
View Installation & Operation Instructions file
Well-X1 Standard Operation
Using a standard 20 psi differential, the Well-X1® can be sized according to the chart below. In this application, the sizing and performance will be similar to a traditional pressure tank and mechanical switch combination.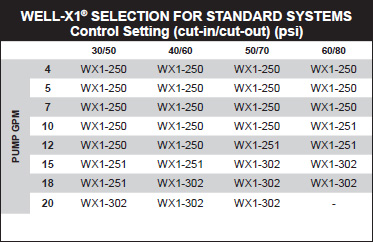 Well-X1 Constant Pressure Mode
The Well-X1® control allows a narrow differential to provide consistent water pressure. The factory 20 psi differential can be reduced so the cut-in and cut-out pressures are within 10 psi. When installed as a constant pressure system, the chart below should be used to ensure the tank volume is sufficient to provide adequate cycle protection.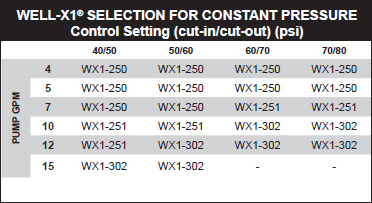 There are no products listed under this category.