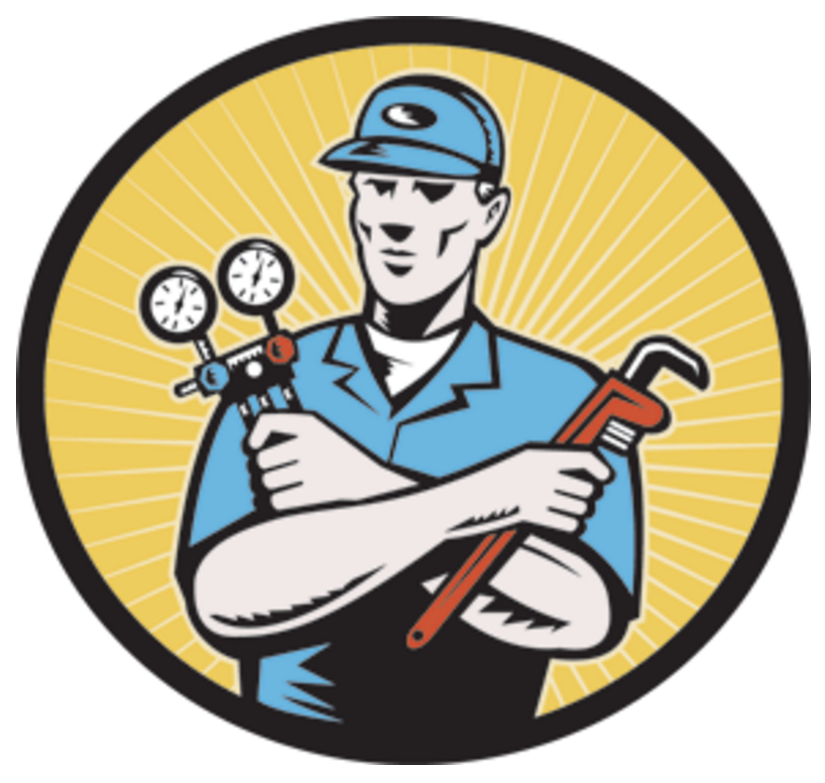 Calling all HVAC contractors! This article is for you. To be successful in this business you need other sills beyond the technical skills of the trade. To mitigate the risk of failure, you should also have soft skills and business knowledge. Communication is key to keep your customers and have new ones. Here is a list of skills in which you should focus and hone.
WANT TO SHARE THIS HVAC INFOGRAPHIC ON YOUR SITE? JUST COPY THE CODE BELOW!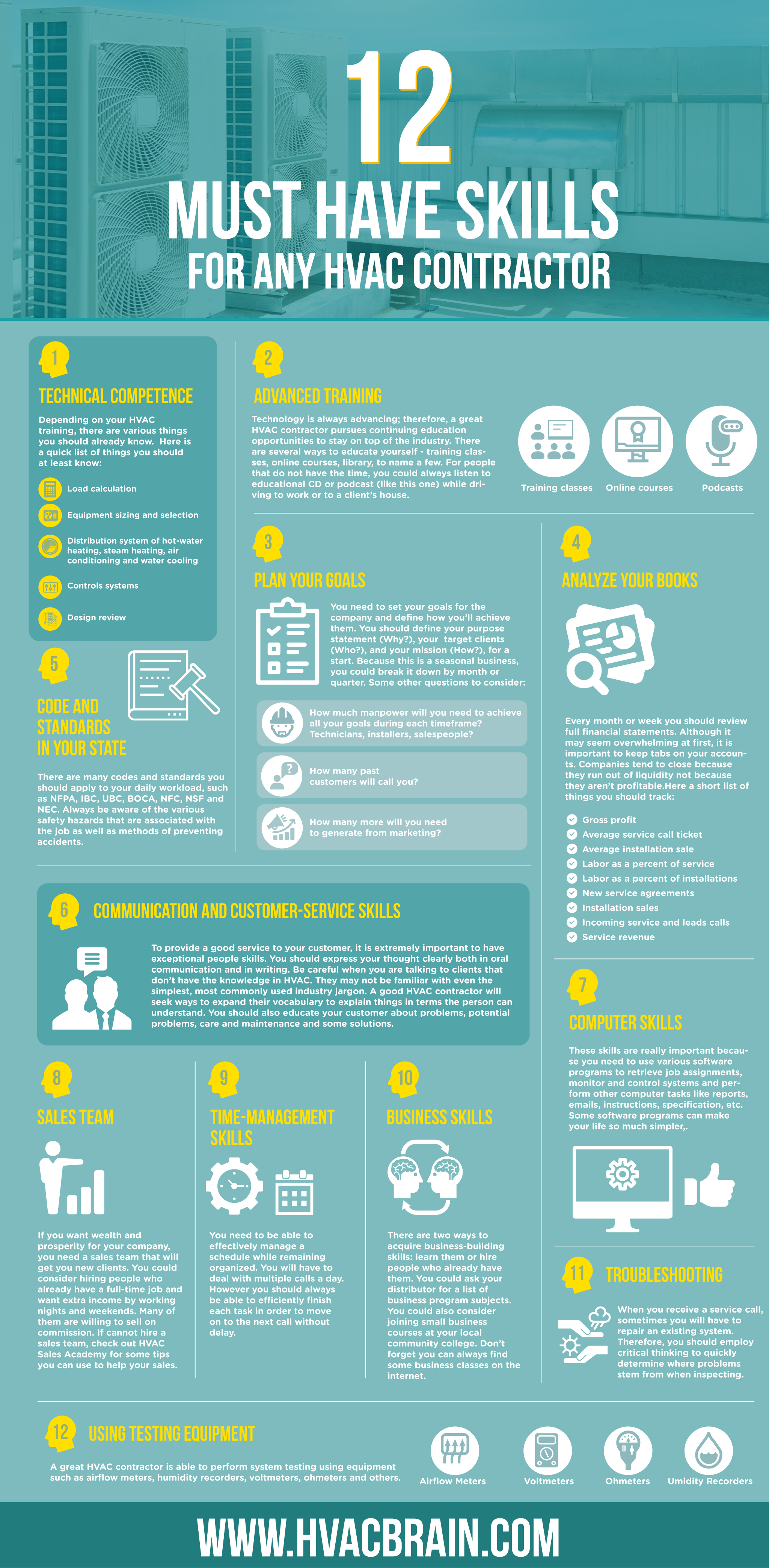 1. Technical competence
Depending on your HVAC training, there are various things you should already know. A great contractor will have knowledge and understanding of technical data for HVAC systems. Here is a quick list of things you should at least know:
Load calculation
Equipment sizing and selection
Distribution system of hot-water heating, steam heating, air conditioning and water cooling.
Controls systems
Design review
2. Advanced training
Technology is always advancing; therefore, a great HVAC contractor pursues continuing education opportunities to stay on top of the industry. There are several ways to educate yourself - training classes, online courses, library, to name a few. For people that do not have the time, you could always listen to educational CD or podcast ( like this one) while driving to work or to a client's house.
3. Plan your goals
You need to set your goals for the company and define how you'll achieve them. You should define your purpose statement (Why?), your target clients (Who?), and your mission (How?), for a start. Because this is a seasonal business, you could break it down by month or quarter. Some other questions to consider:
How much manpower will you need to achieve all your goals during each timeframe? Technicians, installers, salespeople?
How many past customers will call you?
How many more will you need to generate from marketing?
This planning process is important if you want to stay in business. It takes some homework and some tweaking to ensure the plan is internally consistent.
4. Analyze your books
Every month or week you should review full financial statements. We are talking about your balance sheet, income statement and cash flow. IHere a short list of things you should track:
Gross profit
Average service call ticket
Average installation sale
Labor as a percent of service
Labor as a percent of installations
New service agreements
Installation sales
Incoming service and leads calls
Service revenue
Although it may seem overwhelming at first, it is important to keep tabs on your accounts. Companies tend to close because they run out of liquidity not because they aren't profitable.
5. Code and standards in your state
There are many codes and standards you should apply to your daily workload, such as NFPA, IBC, UBC, BOCA, NFC, NSF and NEC. Always be aware of the various safety hazards that are associated with the job as well as methods of preventing accidents.
6. Computer Skills
These skills are really important because you need to use various software programs to retrieve job assignments, monitor and control systems and perform other computer tasks like reports, emails, instructions, specification, etc. Some software programs can make your life so much simpler,.
7. Communication and customer-service skills
To provide a good service to your customer, it is extremely important to have exceptional people skills. You will talk directly to some home owners, property managers, building superintendents but also your supervisors and fellow staff. You should express your thought clearly both in oral communication and in writing to prepare reports, instruction and specification. Be careful when you are talking to clients that don't have the knowledge in HVAC. They may not be familiar with even the simplest, most commonly used industry jargon. A good HVAC contractor will seek ways to expand their vocabulary to explain things in terms the person can understand. You should also educate your customer about problems, potential problems, care and maintenance and some solutions.
8. Sales team
If you want wealth and prosperity for your company, you need a sales team that will get you new clients. You could consider hiring people who already have a full-time job and want extra income by working nights and weekends. Many of them are willing to sell on commission. If you are a smaller business and cannot hire a sales team at this time, check out HVAC Sales Academy for some tips you can use to help your sales.
9. Time-management skills
You need to be able to effectively manage a schedule while remaining organized. You will have to deal with multiple calls a day. However you should always be able to efficiently finish each task in order to move on to the next call without delay.
10. Business skills
There are two ways to acquire business-building skills: learn them or hire people who already have them. In our era, it is now easier to learn real-world skills that can put your business far beyond your competition. You could ask your distributor for a list of business program subjects. You could also consider joining small business courses at your local community college. Don't forget you can always find some business classes on the internet.
11. Troubleshooting
When you receive a service call, sometimes you will have to repair an existing system. Therefore, you should employ critical thinking to quickly determine where problems stem from when inspecting.
12. Using testing equipment
A great HVAC contractor is able to perform system testing using equipment such as airflow meters, humidity recorders, voltmeters, ohmeters and others.