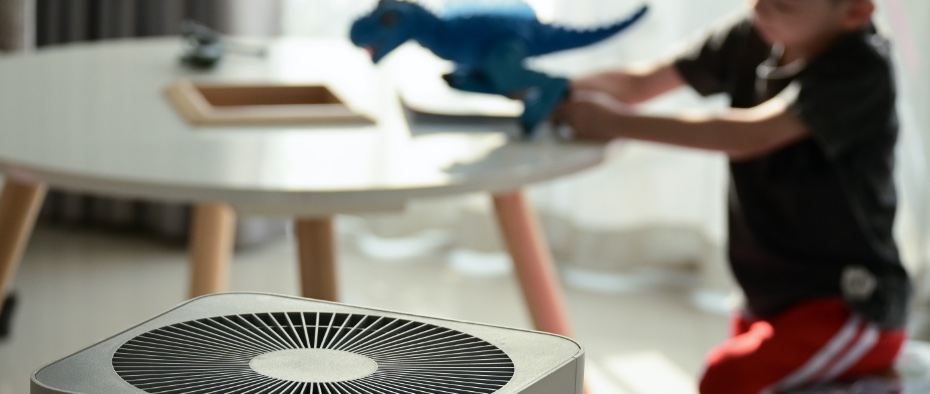 Home Air Quality Begins with Source Control
You may need to purchase a Nortec humidifier or other air cleaning equipment, but the easiest and least expensive way to improve indoor air quality is to eliminate excess pollution. Below are a few ways you may be able to breathe cleaner air with minimal cost.
Clean your whole house: Get out the brooms, vacuums, dusters and mops and get the dirt out. A cleaner house will have cleaner air.
Turn down the gas on your stove: Gas stoves kick out a lot of natural gas when lighting. Consider making an adjustment so the stove uses less gas, saving you and your family some extra air pollution.
Seal off rooms: If you have rooms that contain items emitting any type of pollution, consider sealing them off or enclosing items within them.
Groom pets regularly: Pet hair and dander has allergens that pollute the air and also lead to foul odors. Keep pets well groomed and feed them foods that promote healthy coats. Cover litter boxes that may have been open and change them twice per day.
Make it fun: Household chores are never very fun, but maybe you could turn them into a family project or game. See who can find the most ways to improve indoor air quality and offer prizes.
Ventilation Is Key to the Fight
There are several ways to improve ventilation in your home. Newer homes are often designed with automatic features that bring in outside air. But there are a few things you can do to bring in that fresh air yourself.
Ventilate when possible: In the warmer months for those who live in the colder climates, try opening several windows when temps allow. Nothing clears out old, stale air like a fresh breeze coming in.
Check your HVAC system: Whether you or an HVAC professional looks at it, this could be a crucial way to improve indoor air quality. You may be able to bring in extra fresh air through your home's ductwork. You may also need to replace or upgrade filtration systems.
Infiltration: You may be able to harness air coming in through small cracks, under doors, etc. Think outside the box here.
Shading: The use of blinds or blackout curtains can reduce the heat building up inside your home, improving the air quality.
Improve Indoor Air Quality with a Humidifier
Not all air cleaners are the same — some capture pollutants with multiple filters. Others, like the Nortec humidifier, add moisture to the air in your home. The EPA recommends maintaining in-home humidity at 30-50% for optimal air quality. These numbers can be controlled using any of the Nortec humidifier models available at HVAC BRAIN.
Some humidifiers are stand-alone units, and others are in-line with your furnace or HVAC system, attaching to your ductwork to provide moisture for your entire house. If you have high-end wood floors and wood furniture, a whole-home humidifier is the best choice in place of individual space units.
Regardless of size, steam humidifiers, like the Dri Steem Humidifier, introduce warm, moist air and are controlled by a humidistat — like a thermostat, except it controls humidity levels instead of temperature. Steam humidifiers are considered the best for several reasons. Moistened air from steam will:
Improve indoor air quality by keeping the air in your home or business at optimal humidity levels. This moist air will reduce nose and throat irritation and lessen allergens.
Save you money on heating bills by allowing your heating system to work at peak efficiency.
Be easy to maintain with a simple canister replacement once a year.
Prevent damage to wood surfaces.
How Does an Ultrasonic Humidifier Work?
Ultrasonic humidifiers, like the Stadler Form Humidifier, use a vibrating metallic diaphragm that creates high-frequency sound waves to produce a very fine water mist. This mist is expelled to keep humidity levels optimal. Using ultrasonic humidifiers may be your answer for how to improve indoor air quality. There are several benefits to this uniquely designed device:
No filters
Quiet operation
Dispenses essential oils
Smaller size
Add Some Oil to Improve Indoor Air Quality
The Stadler Form Humidifier has the ability to release essential oils while adding moisture to the air, as do other similar models. Essential oils are extracted from plants where they served the purpose of protecting them from mold. It was discovered that many essential oils can similarly improve indoor air quality. These air purifying oils include, but are not limited to, Cinnamon, Eucalyptus, Peppermint, Melaleuca, Rosemary and Thyme. In addition to soothing the symptoms of poor air quality, they have a positive impact on your emotions and overall wellbeing. For example, lavender and eucalyptus have calming effects.
Dehumidifiers Improve Home Air Quality
Often overlooked, a dehumidifier can have the same effect in improving the air as a humidifier. By drying the air and keeping the humidity lower, the growth of mold and dust mites is curbed. Dehumidifiers work well in damp basements or rooms where cool, dry air is essential, like computer-server rooms or hospitals. They can be indispensable in reducing the level of impure air. Shop dehumidifiers at HVAC BRAIN today!
The Top 10 Ways to Fight Indoor Pollution & Improve Indoor Air Quality
It's time to reveal our top ten methods to improve indoor air quality:
Clean your house thoroughly and remove pollutants.
Reduce natural gas emissions by turning down gas appliances.
Seal off rooms that expel pollutants like excess heat or odors.
Keep pets well groomed and litter boxes covered and clean.
Make it fun — this can be a game-changer.
Ventilate naturally when possible.
Keep HVAC clean and filters up to date.
Take advantage of areas in your home where outside air naturally seeps in. But block excess heat with window shading.
Buy humidifiers, dehumidifiers or install an in-ductwork system.
Use essential oils such as Cinnamon, Eucalyptus or Peppermint.
Improve Indoor Air Quality with HVAC BRAIN Today
We've given you ten ways to learn how to improve indoor air quality and fight indoor pollution. A Nortec Humidifier, dehumidifier or in-ductwork system can make a world of difference. But remember it starts and ends with you — you control the cleaning and maintenance of your home. You also control what items to purchase and use to improve indoor air quality where you live. If you have questions, we at HVAC BRAIN would love to help! Contact us today. We can answer your questions and get you on the path to healthier, cleaner air.