Amtrol: Expansion Tanks - Hydronic
Extrol expansion tanks accept expanded fluid in closed-loop hydronic systems to control pressure buildup, improve comfort and help reduce energy costs. Nearly seven decades after inventing the first diaphragm expansion tank, Amtrol's lineup now includes specialty models engineered for modern, high-efficiency systems. None of it would have been possible without Extrol – The One That Started It All™.
Amtrol Hydronic Expansion Tanks Features
Strongest Tank Design Featuring Deep Drawn Steel and Multi-Dome Construction.
Thickest Diaphragm – Heavy Duty Butyl/EPDM.
Projection Welded Air Stem to Help Eliminate Leaks.
Patent-Pending InSight™ Service Indicator Cap.
In-Line Models Available in 2.0 through 14.0 Gallons
Freestanding Models Available in 14 through 86 Gallons.
Combination Packages Include an Air Purger (1″ Model 443 or 1-¼" Model 444) and an Air Vent (Model 700-C).
Extrol® In-Line Models
Suitable for expansion control in most residential closed-loop boiler systems.
Patent-pending InSight™ indicator cap provides visual check of tank condition.
In-line mounting adds convenience and space savings
EX Packages: Extrol Combination Kits
Combination Packages include Air Purger and Automatic Float Vent.
Extrol Vertical Models
For use in large residential and light commercial applications.
Floor-standing with rugged steel base.
Additional capacity to handle larger boiler systems.
Fill-Trol® System
Eliminates the need for a separate, automatic fill valve.
Tank pressure controls system fill.
Fully adjustable up to a maximum working pressure of 100 PSIG.
Radiant Extrol®
For low temperature systems.
Plastic liner is compatible with barrier and non-barrier tubing.
Suitable for use in glycol applications.
Stainless steel connection for corrosion resistance.
Solar Extrol®
For high-efficiency solar systems.
Suitable for use in glycol applications.
Amtrol Hydronic Expansion Tanks Specifications
EX Series Specifications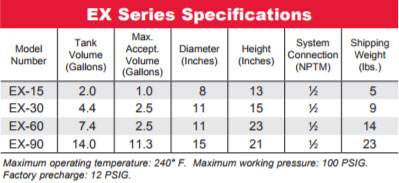 EX Combination Packages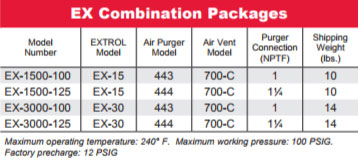 SX Series Specifications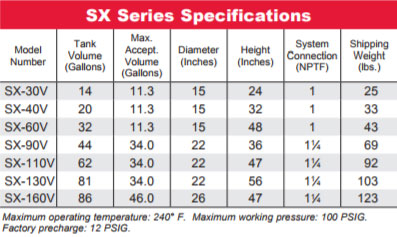 Fill-Trol® Specifications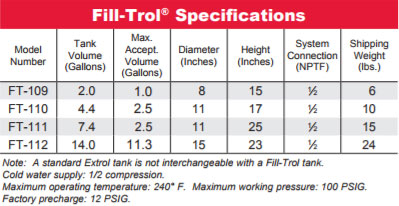 FT Combination Packages
Radiant Extrol® Specifications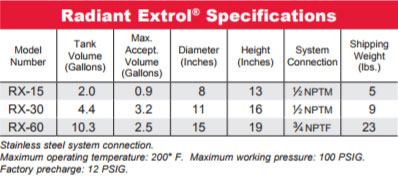 Solar Extrol® Specifications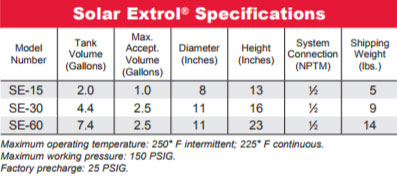 Amtrol Hydronic Expansion Tanks Installation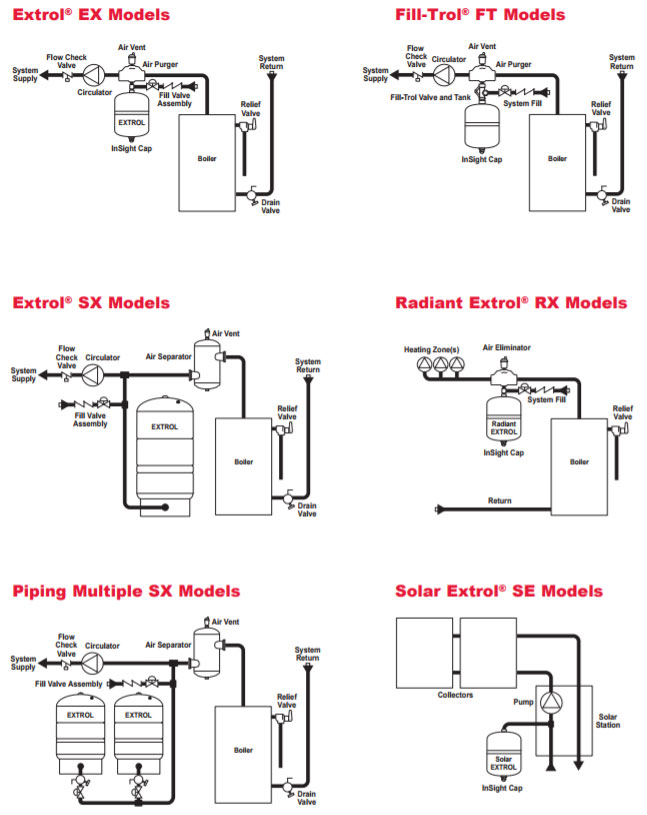 Amtrol Hydronic Expansion Tanks Sizing