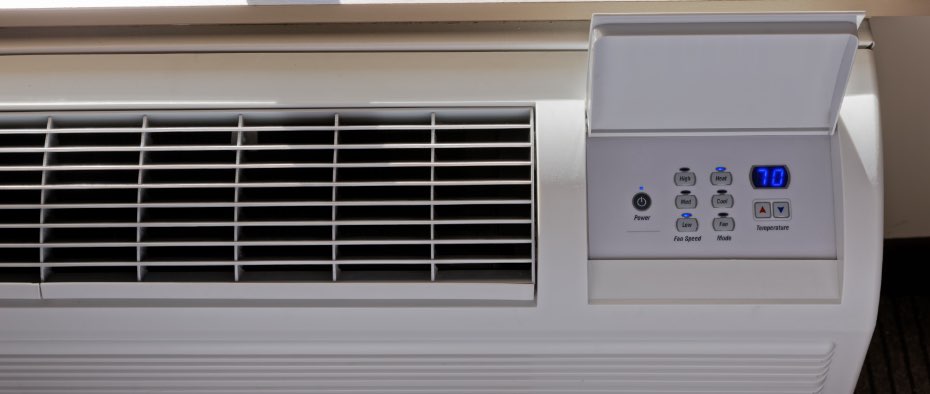 So, What Is a PTAC Air Conditioner, and What Does It Do?
PTAC stands for Packaged Terminal Air Conditioner and is a type of self-contained heating and air conditioning unit. A PTAC unit is installed in an exterior-facing wall to help cool the air. As such, they are sometimes called "through-the-wall" air conditioners. Since PTAC units are self-contained cooling systems, they do not require ductwork. McQuay and Amana PTAC units are among the most popular, though availability may be limited.
How Does a PTAC Unit Compare To a VTAC Unit?
A Vertical Terminal Air Conditioner (VTAC) is also a through-the-wall AC Unit. However, unlike a PTAC unit, VTAC air conditioners are built into a closet or similar enclosure that keeps them out of sight. While PTAC units are easily accessed and can be operated from onboard panels or thermostats, a VTAC unit is less accessible and can only be operated from a thermostat. While PTAC units are designed for single-room heating and cooling, VTACs are ducted systems that can be utilized over multiple rooms. A multi-room VTAC unit does not have the same independent temperature control as multiple PTAC units in different rooms.
How To Install A PTAC Air Conditioner
When it comes time to install your PTAC unit there are a few considerations for you to make first. Not all PTAC units are the same, but with some reasonable preparation you can make an informed decision on which air conditioner is best for you:
Size: The size of the room you intend to cool is the first thing you will want to take into account when deciding which PTAC unit to purchase. Smaller units that condition air in smaller volumes may not be able to keep up with the cooling demands of your room, while larger units tend to be louder and take up more space than necessary. An Amana PTAC unit, such as the American Air Filter, has a shorter sleeve height than a McQuay PTAC air conditioner, like the EB series. Knowing how many square feet of space you want your PTAC unit to cover will help you make the best decision on size.
Location In Room: To make sure your PTAC unit's profile can fit in its intended space, you will need to make a few measurements first. Units are installed underneath windows on exterior walls, but this is not a requirement. What is important is to make sure that the location of your PTAC air conditioner does not interact with load-bearing structures.
Access To Power: This one's pretty simple. PTAC units have power requirements and are plugged into adjacent outlets in a room. Make sure that your PTAC unit's power requirements do not exceed your outlet's availability.
Now that you've got that sorted, you are ready to install your PTAC air conditioner. Make sure to follow all instructions or hire a professional installation expert if you are unsure. Here are the basic steps:
Frame: Proper framing will ensure that your PTAC unit fits neatly in your desired location. The space you make in your wall should be clean and lead to the outside without any obstruction. A PTAC unit such as an Amana air conditioner is available in a few different sizes and profiles, the most common of which is a sleeve height of 16 to 19 inches and a sleeve width of 26 to 42 inches. However, these measurements are not exact and can vary greatly across models and brands. Some McQuay air conditioning units have a sleeve height of 41 inches and a sleeve width of just 12 ⅞ inches. Make sure to check the dimensions of your PTAC unit before punching a hole in your wall!
Level: After you have framed the location where your PTAC air conditioner will go, you will need to level it off. An uneven or off-balance PTAC unit can lead to condensation pooling inside the unit, potentially damaging the unit or the surrounding wall.
Secure: Be careful to ensure that your PTAC unit will not be bearing a load from the rest of the wall and that the opening you make is the proper size to prevent unwanted ventilation issues. Reinforce the installation area if necessary to remove any potential issues.
Weatherproof: Finishing your PTAC unit installation should involve thoroughly weatherproofing it from potential risk. Make sure that your PTAC air conditioner is properly insulated and sealed. Prevent excess moisture from entering the unit by covering the outside with a louver or other covering, taking care not to block or disrupt airflow.
Connect your PTAC unit to an appropriate power outlet and you are all set. Sit back and enjoy your new wall air conditioner.
HVAC BRAIN Is The Number One Choice In PTAC Air Conditioner Supply
If you need one or multiple PTAC units for new construction or replacement, HVAC BRAIN is the number one choice for you. We supply form-fit replacement units for your discontinued Amana wall air conditioner and alternatives for many other brands and models.
HVAC BRAIN is the leading supplier of air conditioner replacement parts. Our experienced staff provides HVAC technicians with exceptional customer service. We combine our extensive knowledge of the industry with a commitment to building strong customer relationships. Contact us today if you have any questions, and shop air conditioners today!
Contact Us